News. The studios at Dumfries House
Anyone who believes that working in a chilly, run-down garret is essential to an artist's creativity would be sorely disappointed by the Glen Dimplex Royal Drawing School Artists' Studios at Dumfries House. Situated in a converted Georgian laundry of handsome pink stone, they are as comfortable and well-appointed as studios could be. They have ground-source heating, state-of-the-art lighting, Farrow & Ball-painted tongue-and-groove panelling, generous windows and individual kitchenettes. Then there are the views: on one side an open meadow, on the other a splendid grove of trees. "They are," says Janet Casey, "probably the most beautiful studios in the country."
Casey is the co-ordinator of the artists' residencies, which take place all year round except Christmas. Run by the Royal Drawing School (another of HRH The Prince of Wales's initiatives), they were devised for its alumni and last for between one and four weeks. More than 200 artists have set up their easels in the studios since they opened in 2013, and they often return. "We also have residencies in Tuscany," says Catherine Goodman, the Royal Drawing School's Artistic Director and co-founder, "but the ones at Dumfries House are the most popular – I think because it's such an inspiring place and there's so much going on."
The artists are chosen by a jury of influential art-world figures who meet twice a year in London. "Some of the people who come here have grown up in inner cities and never been to the countryside," says Janet Casey, "so it's an alien environment for them. I get funny questions like 'Can I walk in the fields?' But they all respond to it really well. They have the run of the Estate, so there are artists dotted all around: under bridges, in the walled garden, on the road – we try not to run them over. Most work outside, but they're also allowed to draw in the House and take inspiration from the interiors. Some make friends with people on the Estate and do portraits of them. The range of work is amazing and they're so prolific – I've never seen artists work so hard."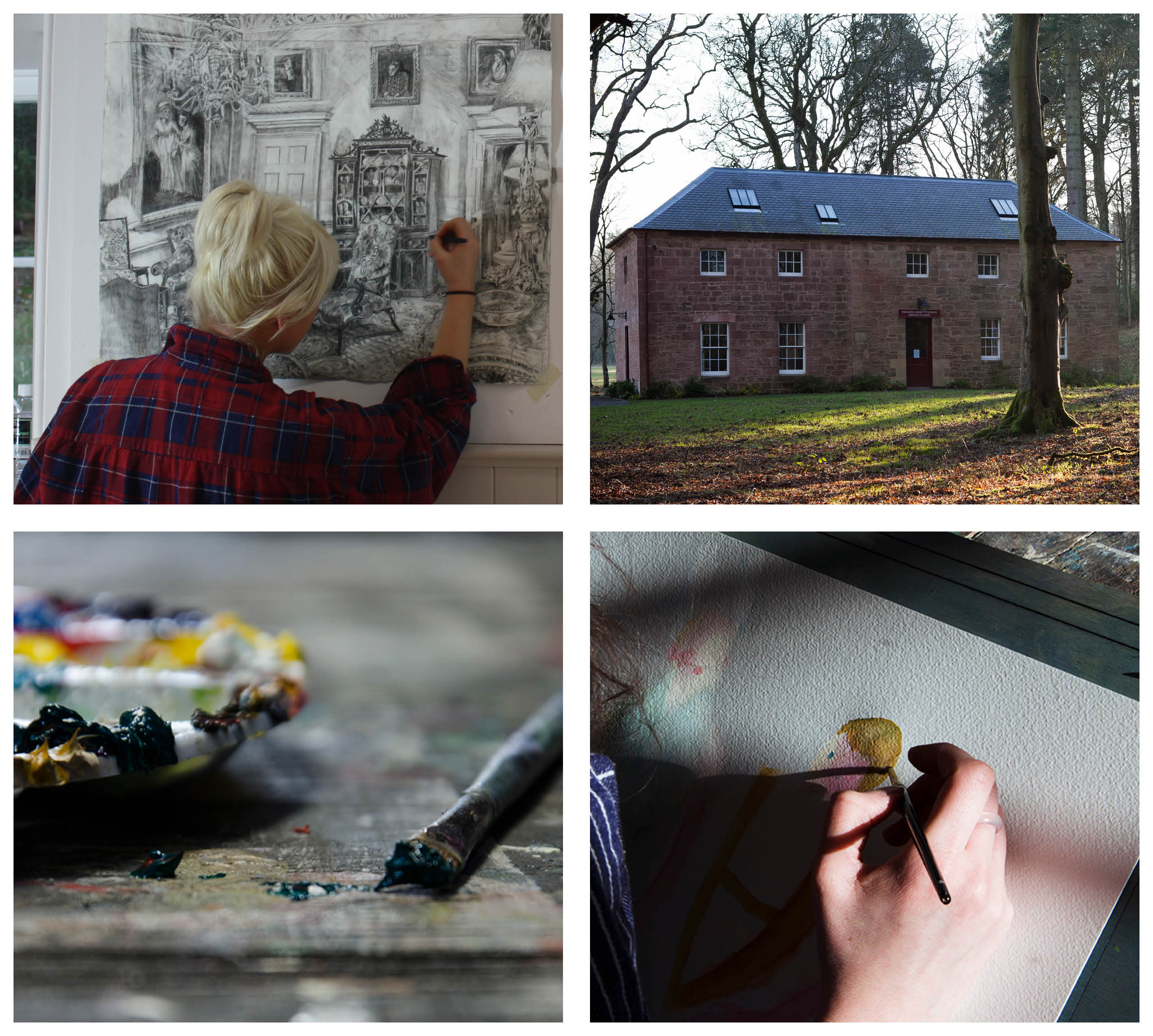 Above clockwise from left: Artist-in-residence Rebecca Harper in the studio, working on her Blue Drawing Room; The studios, in what used to be the laundry; Current artist-in-residence Kirsty Buchanan at work; A riot of colour in the studios
Timothy Betjeman, an American based in London, has had two residencies. "I was interested in the setting of Dumfries House. It's a stark contrast to London, and the fact it used to be a mining area gives it a special feeling," he says. "The landscape and its weather system are unique, with those heavy skies and sprawling hills, and the purples and greys of the rock. But I also had three days inside the House, mainly in the Family Parlour, which produced two paintings: it was a great double experience. And the studios are magnificent."
Fellow artist Tim Patrick is equally enthusiastic: "I'd already done a Royal Drawing School residency in Tuscany and it was an interesting contrast. In Italy, it's hard to see things originally because your mind is full of art history; Dumfries House's grounds are so well cared for, but it still has more of a feeling of wilderness waiting to be discovered. There's quite a bit of sky in all the work I produced, because nature there isn't just happening on the lower horizontal."
For Olivia Kemp, the Scottish trees were a revelation. "I live in Suffolk, which is quite flat with spindly trees, and I'd never seen such enormous ones before," she says. "My first drawing was of the Arboretum after a massive storm. I always make a collection of objects to study, and I found a rotten tree stump that has ended up in five pictures."
"The range of work is amazing and they're so prolific: the artists work so hard" Janet Casey, Residency Co-Ordinator
By contrast, it was the inside of Dumfries House that captivated Michelle Cioccoloni. "It quite unexpectedly ignited an interest in drawing interiors," she says. "I've now been up to the House four times, and I've done the Blue Drawing Room, the Tapestry Room and the Library. I like elegant work, and it's the quality of what's in the House that appeals: you walk into the Tapestry Room and you get sensory overload – photographs don't really capture the subtle textures and light. The details are so interesting too, with their different influences – Baroque and Rococo, but Chinese as well.
She also has a fascination with scientific instruments, and in December embarked on a series of drawings of Dumfries House's magnificent Orrery: "It's so complicated I thought I might not manage it, but at Christmas it was taken out of the front hall and put in a half-dark cupboard; it looked so dramatic that I couldn't resist." Her list of other potential subjects would stretch to several more residencies, and she can't imagine tiring of them. "The great thing about being at Dumfries House is that, unlike many stately homes, it feels so alive – nothing is staged."
The House has, of course, a fine art collection of its own, and more than one visitor has taken inspiration from an individual painting. Henry Raeburn's The Yellow Boy is a particular favourite, but for Kirsty Buchanan it was a 1798 portrait of Elizabeth, Duchess of Hamilton by Anne Forbes: "I was immediately drawn to the unity and subtlety of the colours, and the misty romanticism. Then the more I looked at the painting and drew from it, the more I was enchanted by the naïvety of the composition."
During their stay, the artists-in-residence are housed in a shared flat above the Dumfries House café; they are provided with one communal meal a day. The chance to spend time with other artists and exchange ideas is something many of them particularly value. "When you're starting your career, you need opportunities to share what you've found. It's a gift to have a little community," says Tim Patrick. "We'd dip in and out of each other's studios and ask, 'Do you want a coffee?'
We didn't cross over in terms of art, so there was no problem about giving each other ideas. And we've stayed in touch." "Getting to know artists from other backgrounds and places was the really exciting part," says Leeds-based Rosie Vohra. "We started reading short stories to each other and I ended up going to a conference in Glasgow about storytelling, which has brought something new to my work. I'm making a wall hanging you can sit in and read to someone else."
One artist who had a different background to his fellows – and was older than most – was Douglas Farthing. A soldier for 30 years, he left the Army in 2013 to embark on a new career, encouraged by the praise he'd received for paintings of tours of duty in Afghanistan and elsewhere. For him, being thrown in with other students was an unexpected reality check. "I had such an ego," he says. "As a soldier, I felt I could do anything, and when I started painting I did pretty well. But being at the school and Dumfries House, and seeing how devoted everyone was to their work, made me realise that being an artist was a profession."
Above clockwise from left: 'The World is Blue at the Edges' by Jessie Makinson; 'After the Wind Howled' by Olivia Kemp; Lush by Kathryn Maple
Like many of the artists, Farthing produced work he hadn't expected. "I thought I'd spend one day inside the House, but I spent three in the Great Steward's Dining Room. I began drawing the chandelier, then I looked to my left and saw beautiful porcelain; and to my right Chippendale furniture.
"Being at Dumfries House, away from it all, gives you time to reflect and look" Doug Farthing, Former artist in residence
"Being at Dumfries House, away from everything, gives you time to reflect, look and listen; something I never really do, especially coming from the Army. But it also inspires spontaneity. I was walking to the studio one winter morning, when I looked over my shoulder and saw that the moon was still up but dropping fast below the walled garden – so I picked up my gear and almost ran to paint it from Adam Bridge.'
What all these artists have experienced at Dumfries House is the freedom to work exactly as they please. "In the morning we'd walk in the woods," says Rosie Vohra, who did a joint residency with her friend and fellow alumna Gabrielle Lockwood Estrin. "We were there for a month, so we saw autumn turning into winter and the changing of the colours and shapes of the trees. But I spent most of my time in the studio: I'd have a few hours' reading or drawing from before lunch, then the excellent lighting meant I could work late."
There is a quid pro quo. At the end of their residency, each artist is asked to donate a piece of work to Dumfries House, which is then framed and hung either in the House or another building on the Estate. Michelle Cioccoloni's contributions include two hand-painted etchings of silk flowers, while Olivia Kemp has given five minutely detailed drawings of natural objects. The walls of the House thus mirror its ethos of engaging with the contemporary while safeguarding tradition.
The residencies have proved a huge success, but the Royal Drawing School hasn't stopped there. The programme now embraces other art schools across the UK, such as Glasgow School of Art, and Yale and RISD in the US, increasing opportunities for cultural exchange. The school also sends foundation-year students to Dumfries House each summer. "There are about 50 people on the course," says Janet Casey, "and they're all let loose on the Estate. They then have an exhibition in the engineering centre at the end of the week. Last year it was fantastic; purely by coincidence, His Royal Highness was here opening the Maze and he came along to see the show. They were so pleased."
Artistic Director Catherine Goodman takes members of staff to Dumfries House twice a year: "Around 20 of us go up and we all draw. It's our place to explore ideas and discuss our vision of the future."
The school also has a presence at the Boswell Book Festival, held at Dumfries House every May. "Last year we ran three classes a day, each focusing on a different aspect of drawing from observation," explains Clara Drummond, the Royal Drawing School teacher in charge. "We were hoping to encourage people who don't draw or haven't drawn for a long time, and we had a wonderful response. We do something similar at the Hay Festival, but it worked well at the Boswell because it's smaller, has a family feel and there's less of a divide between the speaker and audience. Daphne Selfe, the world's oldest model, was there talking about her book and she sat for us, and Loyd Grossman drew for a couple of hours."
It's extraordinary that so much has grown from four studios. Hundreds of artists have reason to be grateful to Martin and Carmel Naughton, who sponsored the laundry's conversion. And so, no doubt, will hundreds more. The Royal Drawing School runs a postgraduate course; a foundation year; and drawing courses for adults in London, and courses for children in Glasgow, London, Oxford and Norwich royaldrawingschool.org
The Royal Drawing School would like to thank the following for their kind support of the residency programme at Dumfries House: Robert and Nicole Maloney; Lionel Sauvage; Ines Elskop and Christopher Scholz; and Iwan and Manuela Wirth.