News. Meet Harpist Meredith McCrindle
The sparkling sounds of harpist Meredith McCrindle are almost inseparable from Dumfries House, where the Texan-native has soundtracked many prestigious events over the past five years, ranging from private functions, Christmas dinners as well as engagements attended by HRH The Prince of Wales. As the estate's resident harpist, McCrindle pulls from a repertoire spanning classical masterpieces and pop greats, tailoring her performance to the evening at hand. In time for summer, the musician will unveil a new project dedicated to the Estate itself. "When Walls Speak" is McCrindle's new album that brings to life the history and beauty of the iconic home through expressive scores, and is due to be released on 29th July 2018. Below, McCrindle touches on her musical career, her unrelenting love for Dumfries House and what we can expect from the new album.
Can you describe what first drew you to playing the harp?
Music has always been my passion and to me the harp is the ultimate instrument of musical expression. My tuition began in my hometown of Houston, Texas and continued at Loyola University in New Orleans before moving to do my Postgraduate degree at the University of St. Andrews here in Scotland. At Loyola I had an opportunity to study everything from classical to pop and jazz. In my second year Hurricane Katrina ripped New Orleans apart. Katrina and its aftermath had a profound effect on me. It made me realise what a difference people make when they come together as a community. Dumfries House is a prime example of how communities come together to make a difference. Like New Orleans, Ayrshire is in the midst of regeneration and community support will make the most impact.
Meredith within The Pewter Corridor at Dumfries House.
What are some of the musicians and artists that inspire you?
Most notably, I have been inspired by harp greats like jazz legend, Park Stickney and traditional harpist, Ailie Robertson because of their expertise in expression. It's not only musicians or artists that inspire me. Dumfries House and its interesting history has been a muse for me. The house's rich history and subsequent rescue inspired me to write a number of pieces dedicated to the house and its story.
Can you describe your typical schedule ahead of performances? How often do you rehearse, and what type of methods to you employ in preparation?
My preparation process for a performance starts days or weeks before the event. I like to plan my music to match the venue and the audience. On the day of the event, checking and loading my harp and equipment comes first and then try to eat something before getting dressed.
When did you start performing at Dumfries House? And how did this first come about?
My first event at Dumfries House was a wedding, one of my first performances after the birth of my twin boys. I had just begun playing again and it was wonderful. I remember after the ceremony, setting up on the front steps to play for the drinks reception outside and the hospitality manager, Louis McCallum came outside to see me. He clapped his hands in delight and said, "I love all of this!" Waving his hands at me. And that was it! Two weeks later I was playing for The Prince of Wales for the Commonwealth Games reception for Virgin Money at Dumfries House. It was the gig that changed my life and my career.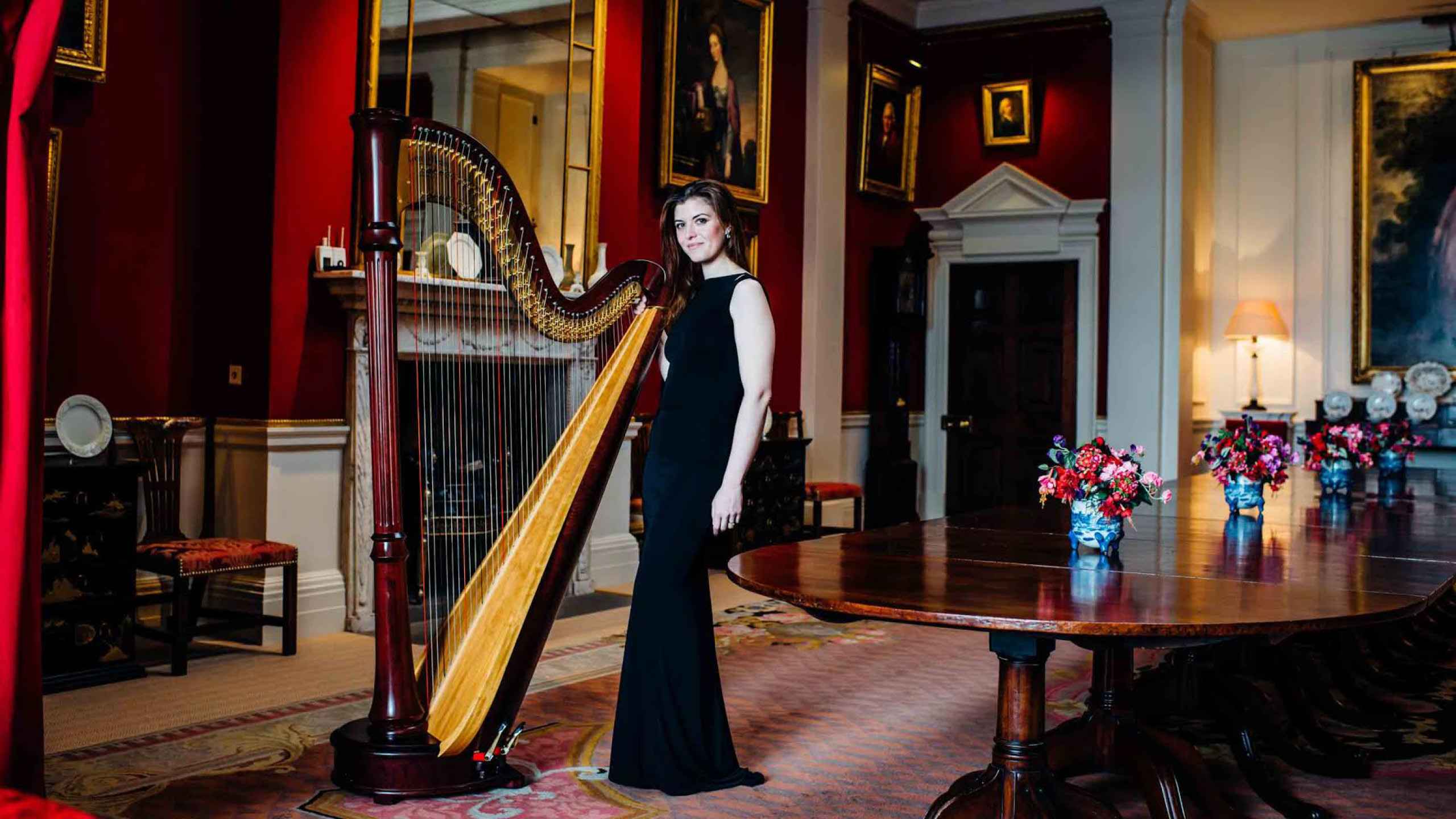 Meredith in The Greart Stewards Dining Room at Dumfries House.
How would you describe the feeling of being on stage? Do you get nervous? How do you stay in the flow of your performance?
Being on stage is pure elation. My favourite part is entertaining and interacting with the audience. I'm a total show-off and love to make people laugh and enjoy the experience. Music is more than just notes on a page it is about engaging the audience and bringing them along on a musical journey.
Can you describe your most memorable performances at Dumfries House?
The most memorable performance at Dumfries House for me was playing for the ITV documentary; When Ant and Dec met the Prince: 40th Anniversary of the Prince's Trust. I had two film crews on me at one point, they used my music for the backdrop of the documentary and Rod Stewart was one of the celebrity guests of His Royal Highness. It was a star-studded affair I will remember forever.
What have been some highlights of your career?
The highlight of any year is playing for His Royal Highness, especially for a girl from Texas, who dreamed of ball gowns and castles. It's quite a big deal. I hope that there are highlights yet to come, especially with the debut of my first album written for Dumfries House, "When Walls Speak".
What are you looking forward to performing this summer? What performances do you have lined up?
My overall schedule is full of private functions and special events, but this year is all about the debut of my new album, "When Walls Speak" - music especially created for Dumfries House. It is my small contribution to the mission of Dumfries House. The rejuvenation of the estate contributes to Cumnock, Ayrshire and the surrounding area by providing education and resources to the community and has had a direct impact on my career. It is my way of giving back.